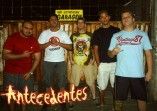 Means: BACKGROUND
Genre(s):

Hardcore
Formed in Barra Mansa, Rio De Janeiro - 2003.
Hardcore band from the city of Barra Mansa (Rio de Janeiro's interior), formed in 2003. In the same year the band entered the studio for the first time and recorded his first-born Demo CD, entitled "World Coming. " Despite the precariousness of the recording, helped spread the band out of town, even participated in the compilation "Not Born To Be a Hero, so no need of Merits, Vol II" on the label H Records, Piracicaba / SP, alongside bands already enshrined in the National Underground as Mukeka di Rato and Nitrominds, and All Against The World (Portugal), GEN (Argentina). May/2007 to October/2005 was the long time which resulted in recording the second demo, self-titled (background). The production was in charge of the experienced Diogo Macedo and Tuta, Studio Toca (Current EME). There are 12 punches that show that came Background: Play Old School Hardcore with influences and air their views and stark naked, without being tied to a single theme, a single cry, unafraid. From politics to religion, venting personal tribute to the true friends, that is the motto.
Antecedentes [Demo, 2007]:
2.O Que Te Aguarda no Futuro?
5. Bem-Vindo Ao Mundo Real